Journal of Aerospace Engineering & Technology (JoAET)
ISSN (Online): 2231-038X
ISSN(Print): 2348-7887
(Editor-in-Chief)
Dr. Michael Shoikhedbrod
Director, Electromagnetic Impulse Inc., 21 Four Winds Drive
Email- [email protected]
Click here for complete Editorial Board
Scientific Journal Impact Factor (SJIF): 3.8
Journal of Aerospace Engineering & Technology (JoAET )
Journal of Aerospace Engineering & Technology (JoAET) a print and e-journal which contains good quality- original research papers, review papers, short communications, and book reviews.  This journal focused towards the rapid publication of fundamental research papers on all areas of Aerospace Engineering & Technology. It's a triannual journal, started in 2011.
Journal DOI No: 10.37591/JoAET
Indexing: The Journal is indexed in DRJI, Citefactor, Journal TOC, Google Scholar
Focus and Scope Covers
Aeroacoustics
Aircraft Structures and Designing
Aeroelasticity, Aerodynamics and Fluid Mechanics
Aircraft Stability and Control
Flight Simulation, Mechanics and Testing
Propulsion and Combustion
Unmanned Air Vehicles (UAV*S)
Avionics and Systems
Electrotechnology and Mathematic
Submission of Paper:
All contributions to the journal are rigorously refereed and are selected on the basis of quality and originality of the work. The journal publishes the most significant new research papers or any other original contribution in the form of reviews and reports on new concepts in all areas pertaining to its scope and research being done in the world, thus ensuring its scientific priority and significance.Manuscripts are invited from academicians, students, research scholars and faculties for publication consideration.
Papers are accepted for editorial consideration through email [email protected]
Plagiarism: All the articles will be check through Plagiarism Software before publication.  
Abbreviation: (JoAET)
Frequency: Three issues per year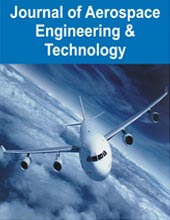 Publisher: STM Journals, an imprint of CELNET (Consortium e-Learning Network Pvt. Ltd.)
Address: A-118, 1st Floor, Sector-63, Noida, Uttar Pradesh-201301, India
Phone no.: (+91)120-4781-215/ Email:  [email protected]
Announcements
No announcements have been published.
Vol 13, No 1 (2023)

Open Access

Subscription or Fee Access
Table of Contents
Articles
| | | |
| --- | --- | --- |
| | Saifullah Khalid, Anoop Kumar | 1-7 |
| | | |
| --- | --- | --- |
| | R. Kasi Raman, S. Venkatesh, V. P. Varrun Neshanth | 16-22 |
| | | |
| --- | --- | --- |
| | Vinita Sahu, Khilesh Turkar, Mayank Verma, Sushant Banjare | 23-36 |
| | | |
| --- | --- | --- |
| | Rucha D. Bhosale, Krishna T. Madrewar | 8-15 |
| | | |
| --- | --- | --- |
| | Devesh Bendale, Dhruva Bhutekar, Prasad Chaudhari, Gaurav Jadhav, Avinash Chavhan, Shishupal Yelgatte | 37-43 |